BBDO en Ethias verzekeren hun 'motorlijf'
Maandag 2 april 2012 — BBDO en Ethias lanceren bij de start van het nieuwe motorrijseizoen een campagne die motorrijders aanspreekt over hun verzekering of beter het gebrek aan een complete verzekering.
Met de slogan 'Motorrijder, u bent te slim om uw lichaam niet te verzekeren' wil Ethias de motorrijder bewust maken van het feit dat bij een ongeval zijn BA-verzekering eventuele lichamelijke schade niet dekt.
De print en radio creatie maken gebruik van enkele motorclichés om de doelgroep te informeren over het unieke en complete aanbod van Ethias waarbij niet alleen de motor, maar ook de motorrijder, zijn passagier èn zijn uitrusting verzekerd zijn. Zelf wanneer de motorrijder zelf ten val komt.
De campagne start de laatste week van maart met een radio- en print- en online-luik maar zal gedurende het hele motorseizoen regelmatig opduiken in gecibleerde media en events.
Zo wordt ook een lange termijn samenwerking opgestart met de redacties van 'Motorrijder' en 'Moto80'. Een maandelijkse rubriek in deze magazines behandelt een specifiek element of een situatie met betrekking tot de motorverzekering.
Ethias zal met deze sensibiliseringsboodschap ook aanwezig zijn op verschillende grote motortreffens doorheen het jaar.
Voor meer informatie
Wouter Van den Herrewegen
BBDO Belgium
Tel: 0474 600 243
e-mail: wouter.vdh@vvl.bbdo.be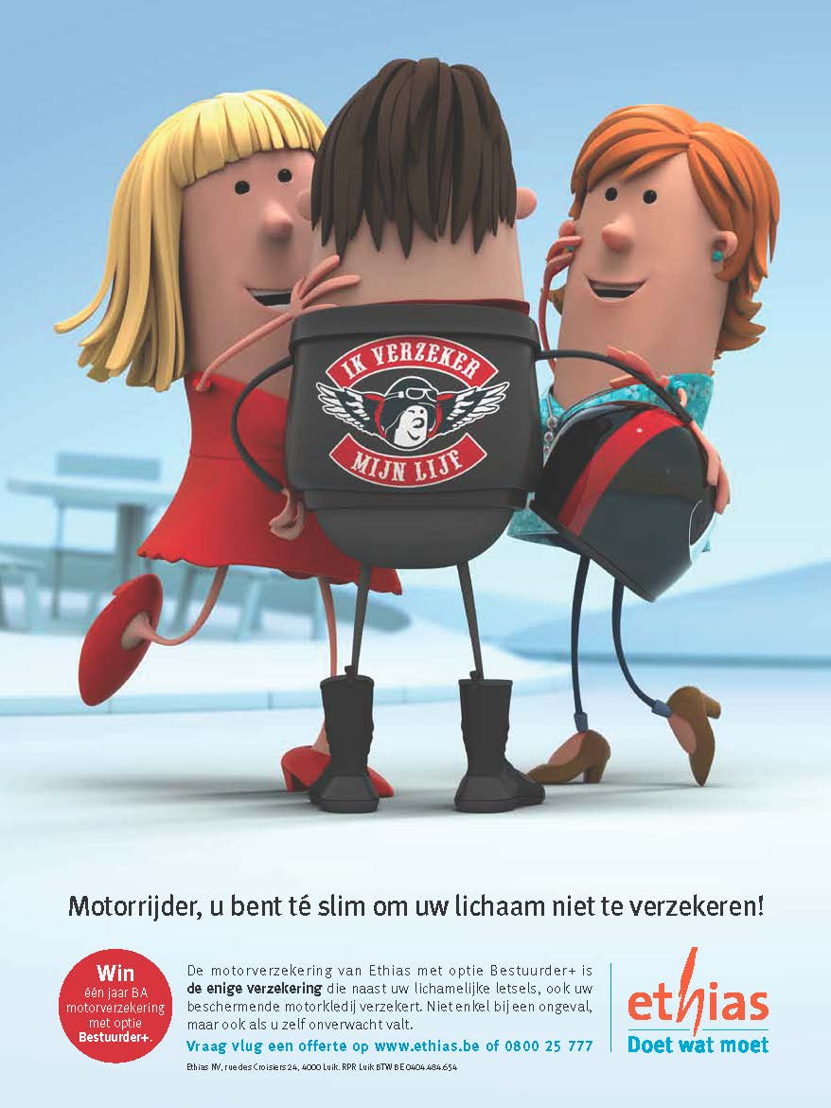 Contacteer ons