BBDO zoekt creative survivors voor The Farm 2013
Woensdag 3 april 2013 — Creativity survives! Onder dit motto gooit BBDO de deuren van haar creative bootcamp voor de vijfde keer op rij wagenwijd open. Ook nu weer gaat het reclamebureau op zoek naar de creatiefste, de scherpste en de meest gedreven jonge reclametalenten.
Drie weken lang worden ze ondergedompeld in een bloed-, zweet- en tranenverslindend reclamebad. Aan hen om zich te bewijzen en te overleven.

De 12 afgestudeerde masters/bachelors, tot aan de tanden gewapend met skills, goesting en passie, zullen van 5 tot 23 augustus op échte briefings voor échte klanten werken. Om ze ook niet volledig aan hun lot over te laten, worden ze bijgestaan door professionals.
De opdracht: in drie weken tijd een reclamebureau opstarten en runnen. En dus: een pak relevante praktijkervaring en creatieve overlevingsvaardigheden opdoen die aardig zullen staan op hun CV.
Voor deze buitengewone ervaring biedt BBDO hen kost en inwoon in Villa Kortenberg. Wie deelneemt is sowieso een doorbijter, maar er is maar één ultieme overlever die negen weken lang stage mag lopen bij BBDO Londen of Parijs, met maar liefst € 1.500 op zak.
Inschrijven voor The Farm 2013 kan tot 28 juni op www.facebook.com/thefarmbybbdo. Op vrijdag 12 juli worden de 'Gouden 12' geselecteerd in samenwerking met DIP, de rekruterings- en selectiespecialisten van SD Worx, experts in het (h)erkennen van talent. Op 5 augustus gaat The Farm dan definitief van start.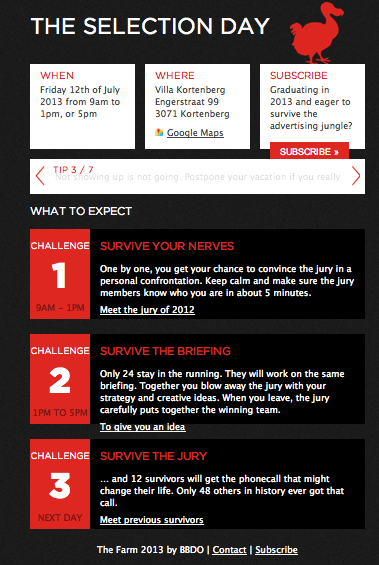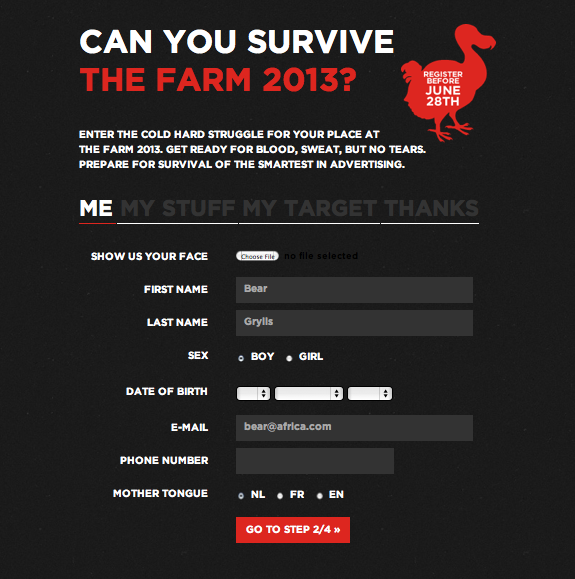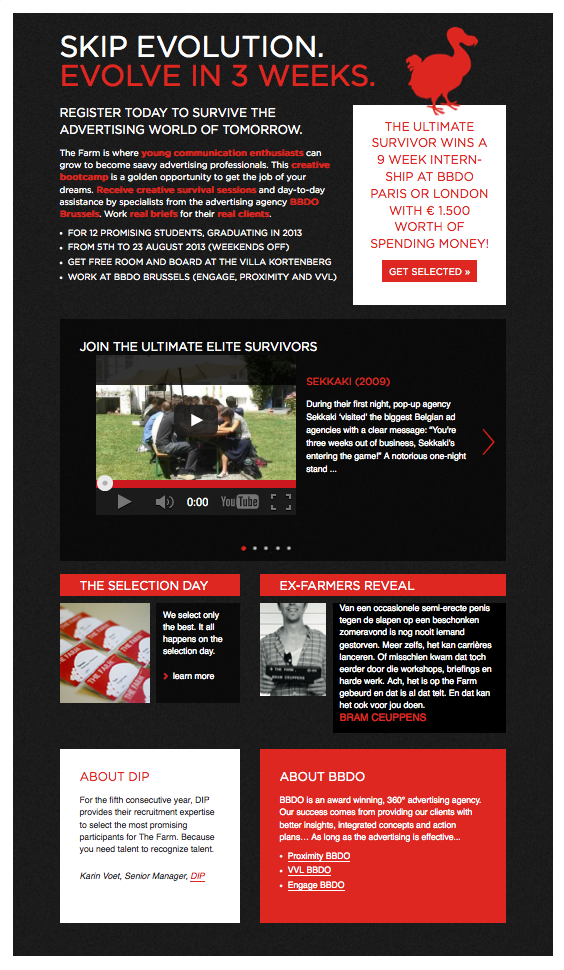 Proximity BBDO
Proximity BBDO