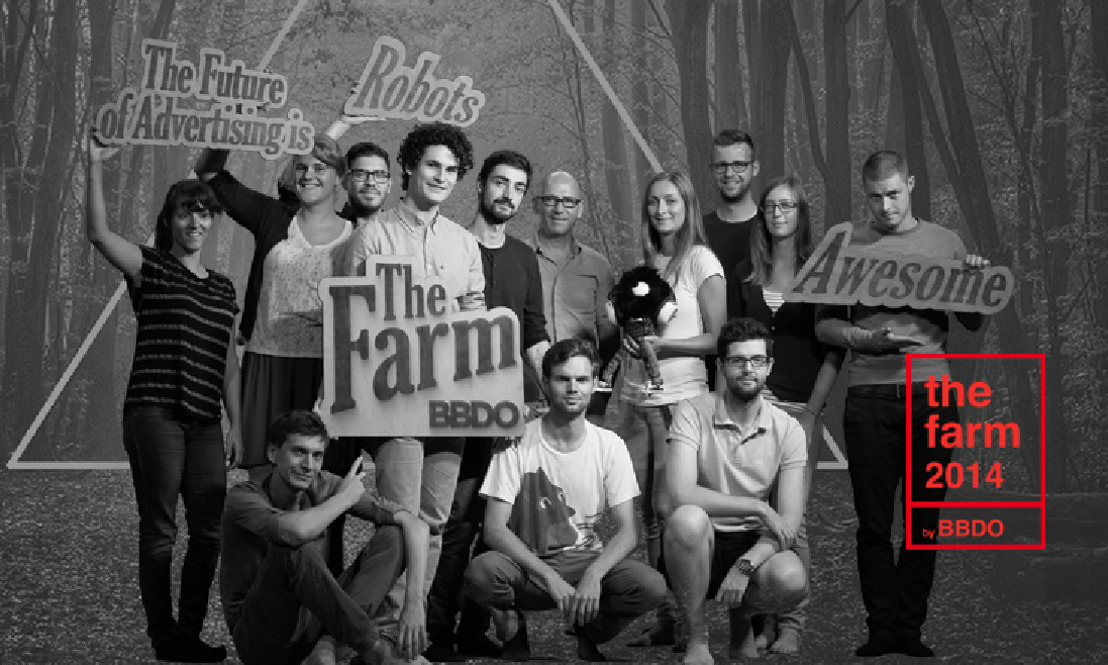 Les talents de demain vous conseillent gratuitement
The Farm by BBDO
Jeudi 14 août 2014 — Mercredi 13 août, 2014 – Bruxelles
12 jeunes poussins ont fait éclore une agence de pub : The Farm. Avec le soutien de BBDO, ils travailleront 3 semaines sur de vrais briefings donnés par de vrais clients. Un véritable concentré de réalité.
En marge des projets qu'ils réaliseront, The Farm créera son propre contenu en ligne. Pendant ces 3 semaines, ils posteront régulièrement des vidéos sur leur canal Youtube et leur page Facebook. Cela leur permettra d'analyser ce qui fonctionne et ce qui ne fonctionne pas sur les réseaux sociaux. « Pour nous, il est très intéressant de pouvoir utiliser ce média comme laboratoire et de voir ce qu'un upload peut apporter » dit Tom Vanheck. « Nous pouvons analyser la différence qu'un certain « post » engendre s'il est boosté avec un petit budget ou simplement envoyer au monde entier. »
Mais cette petite agence vise plus haut. Les Farmers ont l'ambition de répondre à toutes vos questions sur le marketing, la communication et la stratégie. Si vous le voulez, vous pouvez leur poser une question via Twitter. Les questions les plus pertinentes seront sélectionnées et recevront une réponse sous forme de vidéo. Simple, rapide et surtout, gratuit ! Il vous suffit pour cela d'utiliser le hashtag #AskAFarmer.
Cette initiative vous permettra d'écouter pour une fois un point de vue jeune et frais sur le marketing et tout ce qui l'entoure.
« C'est un stage à la vitesse VV prime » souligne Alexander Baert. « Là où un stage est limité en termes de responsabilité, nous sommes ici confrontés à de réels projets et nous devons tout faire tout seul. Nous suivons tout de A à Z : du briefing à la présentation client. C'est une expérience énorme. »
The Farm s'achèvera le 22 août.
@FarmByBBDO

www.farm2014.be 

The Farm op Facebook


Persmededeling geschreven door
:
Jasper Heldenbergh

0494 14 85 30

jasper@farm2014.be
Elodie Pagaud

0478 44 33 10

elodie@farm2014.be
BBDO Supervisor:

Jan Algoed

0486 13 91 73
jan.algoed@bbdo.be
Stalk a Farmer - Elodie Pagaud
Jan Algoed
Head of Digital