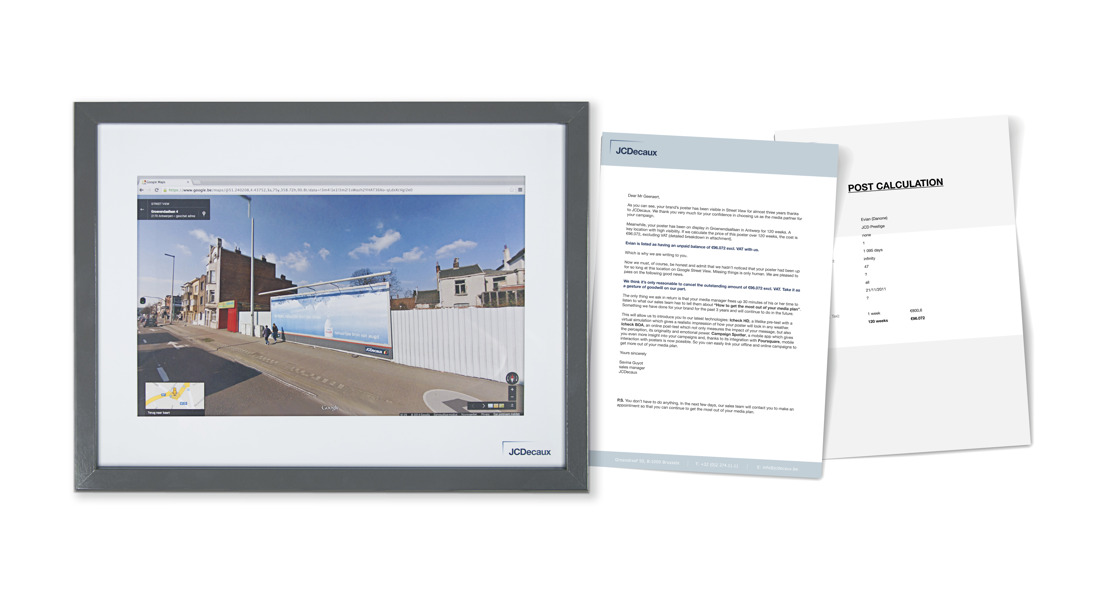 JCDecaux sends out huge bills for advertising on Street View
Monday, June 2, 2014 — Nowadays JCDecaux invests in digital and has a whole new range of digital features and new technologies for billboards. To obtain presentation meetings to inform Belgium's most important advertisers about our digital features and new technologies, we started from digital.
As everyone knows, JCDecaux billboards are visible on the streets… But they're also visible on the streets of… Google Street View.
All these billboards have been left in place for years and years. Which means all these brands got years and years of free media space. So why not use this as a powerful B2B tool?
Together with BBDO Belgium, JCDecaux sent 53 of Belgium's biggest advertisers a framed picture of their campaign on Google Street view. We attached a letter and a detailed invoice to inform them that their billboard had been visible on Google Street View for years and years without being paid for.
Of course we weren't going to let them pay this amount. The only thing we asked in return was to free up some of their time to listen to our sales team about our digital technologies and "How to get the most out of your media plan…"
Credits
Creative Director: Arnaud Pitz & Sebastien De Valck
Art Director: Toon Vanpoucke
Copywriter: Morgane Choppinet
Account Supervisor: Isabel Peeters
Advertiser Supervisor: Veerle Colin (JCDecaux)
JCDecaux sends out huge bills for advertising on Street View