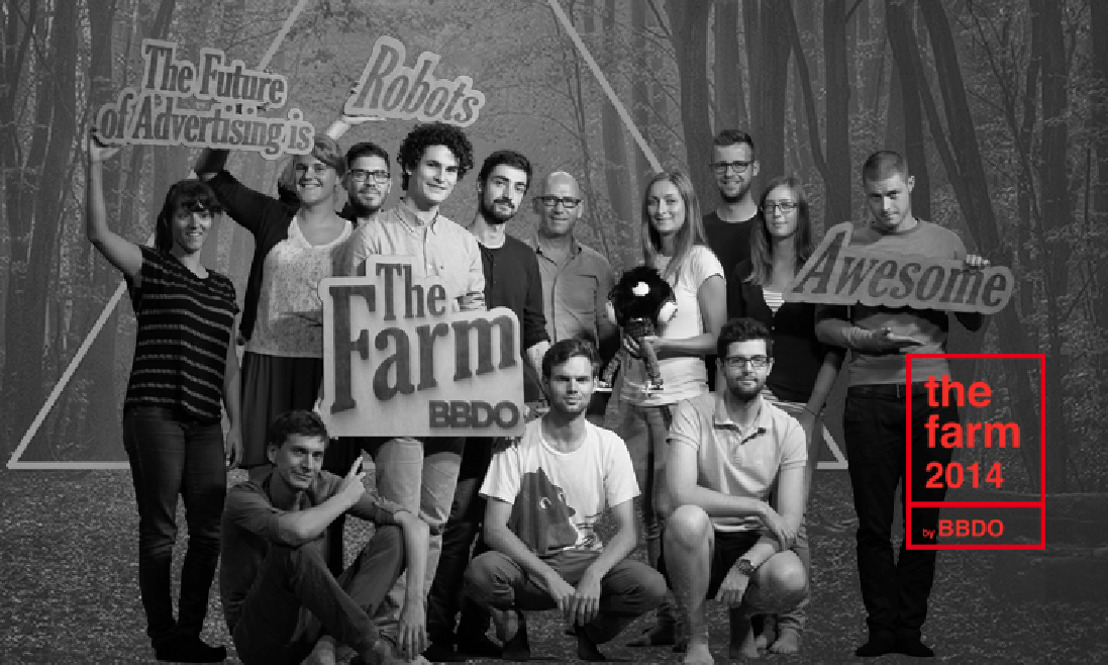 Reclametalent van de toekomst geeft gratis advies
The Farm by BBDO
Woensdag 13 augustus 2014 — BRUSSEL - Twaalf Vlaamse jongeren stampten vorige week een pop-up reclamebureau uit de grond: The Farm. Geholpen door BBDO, een internationaal reclamebureau, werken zij drie weken lang aan échte projecten voor echte klanten van het bedrijf.
Naast enkele projecten voor klanten van BBDO, wil The Farm ook eigen onlinecontent creëren. Tijdens deze drie weken maken ze verschillende filmpjes die ze op YouTube en Facebook plaatsen. Hiermee willen ze toetsen wat wel en wat niet werkt op social media. "Voor ons is het interessant om te kunnen experimenteren met deze media en te zien wat een upload teweeg kan brengen," zegt Tom Vanhecke. "We kunnen onderzoeken wat het verschil maakt als we bepaalde posts gaan boosten met een klein budget en hoeveel mensen we bereiken als we de post gewoon de wereld insturen."
Maar het jonge bureau wil méér doen. De Farmers stellen hun reclametalent ter beschikking om antwoord te geven op al uw vragen over marketing, communicatie en strategie. Iedereen die wil, kan hen via Twitter een vraag stellen. De meest interessante vragen worden uitgelicht en beantwoord in de vorm van een video. Simpel en snel. En gratis natuurlijk! Gewoon tweeten met hashtag #AskAFarmer.
Met dit initiatief wil The Farm iedereen de kans geven om te proeven van een jonge en frisse blik op marketing en alles daarrond.
"Dit is een stage tot de tweede macht." vindt Alexander Baert. "Waar een stage zich beperkt in verantwoordelijkheid en kansen, zijn we hier bezig op échte projecten en kunnen we alles zelf doen. We volgen een project op van a tot z: van briefing tot presentatie bij de klant. We doen alles volledig zelf. En dat is enorm leerrijk."
The Farm loopt nog tot 22 augustus.
@FarmByBBDO

www.farm2014.be 

The Farm op Facebook



Persmededeling geschreven door
:
Jasper Heldenbergh

0494 14 85 30

jasper@farm2014.be
Elodie Pagaud

0478 44 33 10

elodie@farm2014.be
BBDO Supervisor:

Jan Algoed

0486 13 91 73
jan.algoed@bbdo.be
Stalk a Farmer - Elodie Pagaud
Jan Algoed
Head of Digital